We've successfully built a dynamic navigation in the past, using nested asset listings but it introduced a major performance hit. Our menu structure is nested like: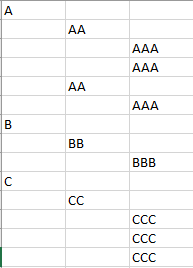 We want to be able to print the title of A, but then only print the titles of AAA pages under it, skipping the AA level pages. Same for B and C groups too. On screen, we should end up with:
A
AAA
AAA
AAA
B
BBB
C
CCC
CCC
CCC
This way, when we move a page in the asset map, it's automatically reflected in the site's homepage navigation.
Any ideas of an efficient way to do it?