Matrix Version: 6.10.0
I have setup a trigger to notify us if someone change the status of Site type assets accidentally. Now, I have restricted user groups to view Details screen but still we have Admin users who have full rights and can change status. It happened yesterday.
The trigger email looks like below:
Here are the details:
Site name : %asset_name%
Asset Id : %asset_assetid%
Time : %asset_status_changed_readable%
User who made the change : %asset_status_changed_by_name%
Who(asset id) : %asset_status_changed_by_assetid%
Last status : %asset_metadata_SITE.status.description%
Current status : %asset_status_description%
The keyword I am using to capture the date and time is not printing the expected (31 Aug) date but previously status changed date.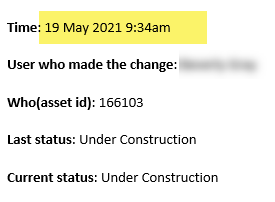 Is it a expected behavior or a bug?